"Reina looked suitable for an attack"
Comments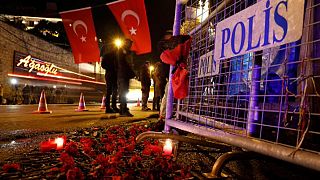 An Uzbek gunman who is said to have killed 39 people in a nightclub in Istanbul at New Year has told police he changed his target at the last moment, according to reports in the Turkish media.
BREAKING: #Istanbul governor says new year's nightclub attacker named Abdulgadir Masharipov https://t.co/0fLPABoilM#Reinapic.twitter.com/VfjkdSRkun

— Al Arabiya English (@AlArabiya_Eng) January 17, 2017
Taksim Square
The gunman, named on Tuesday as Abdulgadir Masharipov, had initially been told to attack the area around the central Taksim Square, according to the Hurriyet newspaper.
"I came to Taksim on New Year's Eve but the security measures were intense. It was not possible to carry out the attack," Masharipov is quoted as saying.
"I was given instructions to search for a new target in the area. I toured the (Bosphorus) shore at around 10pm in a cab," he continues.
"Reina looked suitable for the attack. There did not seem to be many security measures."
Confession
On Tuesday, Istanbul Governor Vasip Sahin said Masharipov had admitted his guilt.
Sahin said the suspec's fingerprints matched those found at the scene.
Sahin described Masharipov as well-educated and able to speack four languages.
He said he had received training in Afghanistan.
Everything we know about Istanbul nightclub attack suspect Abdulkadir Masharipov https://t.co/nSfh3YMHpupic.twitter.com/59txK7zWKt

— Newsweek (@Newsweek) January 17, 2017
Ordered by

ISIL
He has reportedly told officers he acted on direct orders from ISIL in Syria.
The Hurriyet newspaper cites police testimony in which he is quoted as saying his instructions came from Raqqa, ISIL's stronghold in the country.
When was Masharipov arrested?
Police capture suspected Reina gunman Abdulgadir Masharipov with four-year-old son from Esenyurt district, Istanbul https://t.co/OTh4J7qZ4kpic.twitter.com/OKEya4VeeI

—

TRT

World (@trtworld) January 16, 2017
The 32-year-old was arrested on Monday in the Esenyurt suburb of Istanbul.
An Iraqi man and three women from Africa and Egypt were also detained.
Turkish police raided six locations in the western province of Bursa on Wednesday in connection with the Reina attack.
The state news agency Anadolu says 27 suspected members of ISIL were arrested.
Police say they included 15 women, as well as Uzbek, Kyrgz and Tajik nationals.
Fake IDs and passports were also reportedly seized.
The Reina attack
Turkish officials say Masharipov has admitted shooting his way into the exclusive nightclub and opening fire on New Year revellers.
ISIL claimed responsibility the next day.
The group said the attack was in revenge for Turkish military involvement in Syria.
Turkish troops entered Syria last August to push ISIL away from the border and halt advances by Kurdish militia.
READ
The Reina nightclub attack: everything you need to know https://t.co/UYTKWk24QApic.twitter.com/99dEkdJfpT

— euronews (@euronews) January 2, 2017