Paying a heavy price: Melilla's "Mule Ladies"
Comments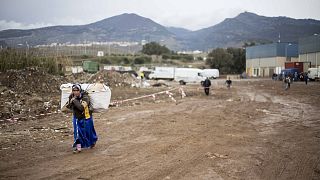 Every day, hundreds of women line up outside the Spanish enclave of Melilla in North Africa.
They are queuing for the right to carry bundles of goods, often weighing up to 100kg through the desert heat for as little as 10 euros a day.
The bundles may be second-hand clothes, food or anything that can effectively be "smuggled" into Morocco.
The story of these "Mule women" is told by Gonçalo Fonseca, a Portuguese photographer based in Barcelona. He was struck that the only news that reached Europe from the area was about migrants trying to climb the border fence.
But the brutal treatment of the workers who try to earn a living within the system is even more striking.
Human Rights organisations estimate the number of "mule women" at between 5.000 and 8.000. The Spanish authorities allow this "low profile" smuggling because it's very profitable for the autonomous city of Melilla, NGO's claim.
Melilla authorities call this "atypical commerce". The crowds often block the borders for hours causing tensions and sometimes dangerous stampedes.
Despite their hardships, many of the women were reluctant to speak, Fonseca spent a month at the Barrio Chino, a pedestrian border cross, always crowded with these "mule women" and he gained the trust of some of them.
"Most of the time I didn't photograph at all. I tried to talk with the workers and help them carry the heavy bundles of Spanish merchandise. I wanted to experience what they lived so I could understand it better." says Fonseca.
"I was fortunate enough to have met Fatma, a 70 year old porter, who opened up her home and her life to me. She had spent her better years carrying the heaviest of bundles, and her health started to fade. She wanted compensation for her former employers and she blamed them for her multiple ailings. All she wanted was 100 euros but they flat out denied."
The weight of the world in our backs
By Gonçalo Fonseca.goncalofonseca.net
It's 9 am, and despite the early hour, the blistering sun was already making life harder for the hundreds of Moroccan women, known as the "Mule Ladies", who make a living carrying huge bundles of Spanish merchandise, across the Barrio Chino border, destined for Morocco's domestic market.
For Fatma, a 70 years old porter, the day had started at 3 am. For the past 20 years, the ritual has always been the same. She got up in the middle of the night in her brick hut, cooked her family what little food they had, and got on the first bus headed to Melilla, one of Spain's enclaves in the Northern African coast. She needed to arrive before dawn if she wanted to beat the crowds. Only the first ones to arrive are able to get the bundles, and the competition is fierce. On a good day, they might make up to 5 euros for each crossing, but most people don't earn more than 10 euros a day. It's a meagre pay for carrying bundles that can weigh up to 100 kilos.
The routine is straightforward. From Monday to Thursday, trucks loaded with products arrive at the dusty border control, accompanied by a swarm of men and women that come running behind it, screaming and fighting. From the harassment by police on both sides of the border, to the regular brawls that happen when the bundles are scarce, violence is a constant in a porter's life.
The packages are dropped from the trucks and the trial begins. The women carry them any way they can up a steep hill, across the border, and on to the drop point where the payment is received. The Moroccan law states that everything you can carry on you is labeled as a "hand luggage" and thus excused from import taxes. This type of contraband is tolerated by the two countries because of the economic impact it has on the surrounding areas. By conservative estimates this trade represents one third of the economy of Melilla and moves more than 1,400 million euros in imports every year.
Porters are usually single, divorced, widowed or abused women, who risk their own lives on a daily basis to put food on their families' tables. In 2008, a young porter named Safia Azizi was killed by a stampeding crowd in the Barrio Chino crossing, in Melilla. A year later, two other women were trampled to death in Biutz, Ceuta. Although the crossing is very dangerous, the biggest risk to these women's well-being is caused by the long-term effects of carrying huge weight. Many women have health conditions, but still labour on day after day.
"I'm in so much pain" cries Batul, a 62 years old Moroccan from Oujda, while she takes a rest, sitting on a rock. Five years working as a porter have resulted in severe knee problems. The doctors asked her for more than 2000 euros for knee cap surgery. "My family is poor", she says," the only way I can pay is by working". She explains that many women here suffer from serious medical conditions and have no option other than to work.
Fatma's story is similar. She started working as a porter when she was 50 years old and always was eager to carry the heaviest of bundles, so she could earn more money. But 20 years of carrying weights of over 100 kilos on a daily basis had their toll. She suffers from a lung condition and cannot work any longer. She came here today to ask for compensation. All that she asks of her former employers is to cover the medical expense of a treatment that will grant her a few more months next to her family. She just needs 100 euros, nothing compared to the many million euros' worth of Spanish products that pass on porters' backs to Morocco every year.
But here, in the Barrio Chino crossing, the rule is that you must work to get paid. If you are too sick to carry bundles, you get nothing at all.
She returns empty handed to her brick hut in a slum in Nador Province, which she shares with her two sons. "We built this house with discarded bricks from a nearby factory, they were going to throw them, so we took the ones they couldn't sell.". Harib, her youngest, is only eighteen and already works as a porter.
Ahmed, the oldest, is twenty five and works at a brick factory, earning 5 euros a day.
She has four children. One is in the city of Meekness, searching for a better life, and has left her with a grandchild to raise. Her other son, lives in a nearby house with his wife and three children. "This week has been very though. We didn't have anything to eat. A neighbour of mine gave a few grains of cereal, so I made some bread. At night we eat it with tomato. That is all we have." Fatma admits that they go hungry on a regular basis. She went to a national aid organisation, but was turned down because she lived in an unauthorized settlement.
"When the Mohamed VI Association said no, I went to the bush to collect some snails, but was also forced to leave by a policeman. We didn't eat that day".
She started working as a porter when her husband couldn't find a job, and has done so for two decades. Fatma is now too sick to work and has no money for treatment. "When I die, I'm going straight to heaven. " she says "Why would God punish me any longer? He hasn't given me anything in life, only suffering."
It's late afternoon, and a few miles away in Melilla, the working day is drawing to a close. Smiling Spanish citizens wait at the gates of their kids' schools, cherishing the end of another day's work.
Here, in the world's most unequal border, according to Promesa, a government organization who supports economic development, the difference in income is almost 20 fold. In the border that divides the prosperity of Europe from the hunger of Africa, the porter is a symbol of exploitation.