Pakistani singer stops mid-concert to save girl being harassed
Comments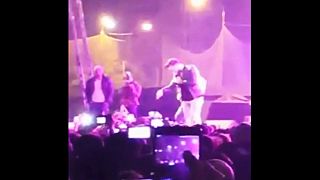 Pakistani singer, Atif Aslam, stopped mid-way through his concert on January 15 to have a female fan who was being harassed pulled from the crowd.
After calling to his security to bring the woman up onto the stage Aslam told the alleged harassers: "Have you ever seen a girl? She could be your mother or a sister," (BBC).
The crowd chanted "Atif" and applauded the singer for his actions.
According to local media reports, multiple girls were "molested and sexually harassed" at the concert after issues with fake tickets lead to overcrowding.