Germany's Greens go centrist in choice of election leaders
Comments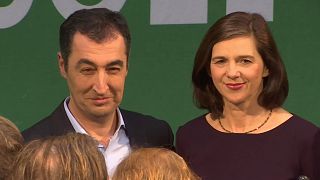 As the parliamentary elections in Germany creep closer, the traditionally left-leaning Green Party has announced two centrists will lead them to the vote.
Karin Goering-Eckardt and Cem Ozdemir are the choice of the 61,000-member-strong party.
Around 59 percent of party members cast a ballot.
Welcoming the outcome, Goering-Eckardt gave a nod to the US and Donald Trump's impending presidency. She highlighted the importance of climate change and added "We will try to tear down walls, not build new ones."
The party could be key to whatever government is formed following the September 24 election.
The Greens will stand as an independent party, but the unusual choice of two centrist leaders (rather than one moderate and one 'idealist' leftist), could see them asked to form a coalition with current Chancellor Angela Merkel's conservative CDU.