Tensions grow between Trump and black leaders
Comments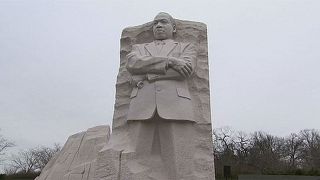 January 16 in the United States is Martin Luther King Day in honour of the civil rights hero.
But this year's commemorations were held amid rising tensions between US President-elect Donald Trump and prominent black leaders.
One of Dr. King's fellow activists, the civil rights icon John Lewis, has questioned the legitimacy of Trump's presidency. In return Trump tweeted at the weekend highly critical remarks about the Democratic Congressman saying he did little for his Atlanta constituents.
Congressman John Lewis should spend more time on fixing and helping his district, which is in horrible shape and falling apart (not to……

— Donald J. Trump (@realDonaldTrump) January 14, 2017
mention crime infested) rather than falsely complaining about the election results. All talk, talk, talk – no action or results. Sad!

— Donald J. Trump (@realDonaldTrump) January 14, 2017
The row has highlighted the challenges Trump faces as he prepares to take office on Friday (Jan. 20). He is deeply distrusted by minorities across the country, many of whom have been offended by his false allegations that President Obama was born outside the United States, appalled that his candidacy drew backing from white supremacist organizations, and dismayed at policy proposals they consider antithetical to their interests.
With a boycot among Democrats of his inauguration growing, a meeting was hastily arranged between Trump and Dr. King's the eldest son.
Martin Luther King lll sought to defuse the row saying, "In the heat of emotion, a lot of things get said on both sides".
Dr.Martin Luther King Jr. was a charismatic speaker who led the fight for Black civil rights in the 1950s and 60s using nonviolent civil disobedience., He was assassinated in Memphis, Tennessee on April 4, 1968 at the age 39. Had he lived he would have been 88 this week.