Turkish cargo plane crashes into houses in Kyrgyzstan
Comments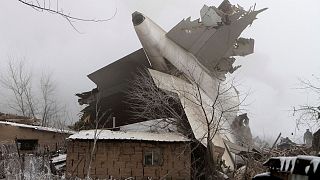 A Turkish cargo jet has crashed near Kyrgyzstan's Manas airport killing at least 16 people.
Rescue workers have recovered the body of one pilot and 15 local people whose houses were in the Boeing 747 jet's crash area. Six children are said to be among the victims.
The plane had been en-route from Hong Kong to Istanbul with a refueling stop in Manas airport.
It crashed when trying to land in poor visibility.