South Korea prosecutor to decide on Samsung leader's arrest warrant
Comments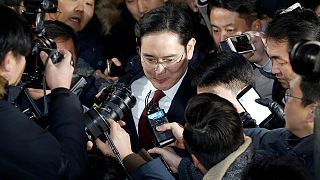 Samsung's vice chairman may be the next head to roll in the influence-peddling scandal which led to the impeachment of South Korea's president.
The special prosecutor's office said it will decide on Monday whether to seek an arrest warrant against Jay Y Lee and other Samsung executives, delaying their decision by one day.
Lee is a suspect in an investigation into whether the country's top conglomerate paid bribes to secure the merger of two affiliates.
On Friday, prosecutors grilled Lee in a marathon 22 hour session. They were investigating whether he gave false testimony during a parliamentary hearing in December in which he denied bribery accusations.
Samsung has acknowledged making two payments to two foundations at the centre of the scandal but denies lobbying to push through the merger.
President Park Geun-hye was impeached by parliament in December and stripped of her powers. A court is deciding whether to uphold or overturn the vote.