Quake survivors in central Italy protest over lack of help
Comments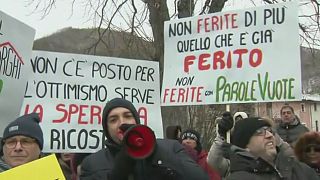 Bureaucracy kills more than earthquakes – the message on one of the banners at a protest in central Italy, in one of the areas devastated by a series of strong quakes in August and October last year.
Residents gathered in Accumoli to complain that not enough has been done to help them with cleaning up operations and reconstruction.
They say with the freezing weather slowing down the few reconstruction efforts that have begun, there must be better and quicker use of disaster funds.
"We want more than words", said one woman. "A lot of money was donated after the quakes. People want to return to their land. Use that money."
Some 298 people died in the quakes, with many more injured.
There was widespread damage to businesses and homes, forcing a lot of residents into emergency shelters.