Poland welcomes 4,000 US troops as part of NATO deployment
Comments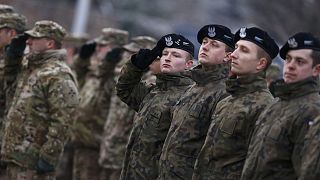 An official ceremony has taken place in Poland to welcome 4,000 US troops to the country as part of a NATO deployment.
The arrival of the soldiers is seen as a show of force to Russia, which has slammed the move as a threat to its national security.
Video shows convoy carrying US troops entering Poland as part of NATO build-up that has drawn criticism from Russia. https://t.co/6afiyH8ccFpic.twitter.com/pl5Kcwdgre

—

ABC

News (@ABC) January 13, 2017
It also comes less than a week before the swearing-in of US President-elect Trump, who has vowed to improve relations with Moscow.
Poland's Prime Minister, Beata Szydlo, told the ceremony: "It's a great day when we can welcome American soldiers, representatives of the world's best, strongest, greatest army onto Polish soil, here in Zagan."
The US says the troops will take part in exercises in Poland and across Europe.
General Timothy McGuire, Deputy Commander of the US Army in Europe, said: "This outstanding brigade is a highly capable and ready force, with the best equipment, leadership and training of any combat force in the world."
This is the biggest deployment of US troops in Europe since the Cold War, aimed at reassuring eastern European countries worried about what many see as increasing Russian aggression.
#HappeningNowUSArmyEurope</a> Maj Gen McGuire thanks <a href="https://twitter.com/hashtag/Poland?src=hash">#Poland</a> for welcoming <a href="https://twitter.com/4thInfDiv">4thInfDiv "US will always stand with Poland to defend its freedom" https://t.co/Mi3yiwj7es

— US Mission to

NATO

(@USNATO) January 14, 2017
The Yanks Are Coming! #Poland set to welcome #USA led battlegroup https://t.co/R7QRNug4ee#NATO#AlliedStrong#armypic.twitter.com/tk5SzK4lBJ

— EU today (@EU_today) January 4, 2017