Jogger takes reporter's question a little too literally
Comments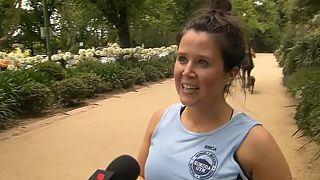 After stopping during her morning run to answer a local news journalist's questions about her workout routine, a Melbourne woman's nerves appeared to get the better of her.
When prompted to give her name Erica O'Donnell replied convincingly, but when asked to spell her first and last names she took the question too literally replying: "F.I.R.S.T L.A.S.T".
When the reporter, Michael Scanlan, dissolved into laughter she realised her mistake, blaming the oversight on her nerves.
Scanlan exclaimed that "in a decade, no-one has done that."