Tajani tipped to edge EP presidency
Comments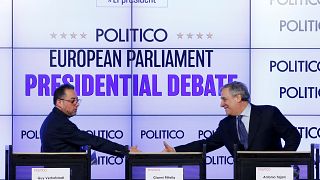 Former EU commissioner Antonio Tajani could just edge victory in the race to become the next head of the European Parliament, according to one forecast released on Thursday.
Votewatch Europe ran a series of simulations on how the election could go next week when MEPs vote in a secret ballot.
In its final forecast, the Brussels-based organisation predicted that the EPP's Tajani, an ally of ex-Italian PM Silvio Berlusconi, would beat Gianni Pitella, a Socialist, in a run-off.
The think-tank said Tajani would win by 380 votes to 369 votes if such a run-off was needed.
"The other parties have proposed candidates and that's not in vain, they have ways of influence in the election. Even the liberals have a chance of playing a role," said Doru Frantescu of VoteWatch Europe.
"It is a very remote possibility that candidate of the liberals, Guy Verhofstadt, will win the election. But still, in theory, they still have a chance because the liberals hold the swing voters, so they are basically the king-makers in these election."
The European Parliament presidency is largely ceremonial.
The holder of the post chairs plenary sessions and oversees the
parliament's activities.