Mexico to keep an open mind in talks with Trump but won't pay for any wall
Comments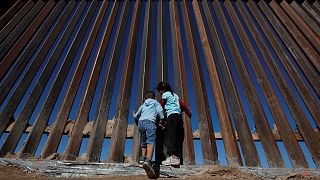 Mexico is willing to throw its relationship with the US wide open when it sits down to talks but it still won't pay for any wall.
President Enrique Pena Nieto has promised to take a broad approach to the incoming administration of Donald Trump but wants a deal which benefits both parties.
"It is evident that we have some differences with the next government of the United States such as the issue of the wall which, of course, Mexico will not pay for," President Pena Nieto told a gathering of Mexico's ambassadors in Mexico City.
He added: "The United States should take on a commitment of joint responsibility to stop the trafficking of illegal arms from the United States to Mexico as well as to stop the money of illegal origin that criminal organisations in our country receive."
'Against our dignity': Mexico vows never to pay for Trump's wall https://t.co/6HDtGXR88n

— Guardian news (@guardiannews) January 12, 2017
President-elect Trump's threat to shore up and extend an existing border barrier to keep out illegal immigrants and make Mexico reimburse the US for construction costs has worried many in Mexico.
"As a country you cannot pay for something that you are not building and which also does not benefit you," said one man in Mexico City.
Trump has also threatened to tear up a trade agreement that underpins Mexico's economic model if he cannot renegotiate its terms in his favor, battering the peso currency and fueling uncertainty over foreign investment.
"And now companies are deciding not to invest because of Donald Trump's other threats which means all of this affects all of our finances as Mexicans," said a Mexico City resident.
Trump takes office on Jan. 20, and last week Mexico named former finance minister Luis Videgaray to be its new foreign minister, giving him a crucial role in discussions with the new US government. A date has yet to be set for formal talks.
Dishonest media says Mexico won't be paying for the wall if they pay a little later so the wall can be built more quickly. Media is fake!

— Donald J. Trump (@realDonaldTrump) January 9, 2017