Fiat Chrysler accused of emissions violations in the US
Comments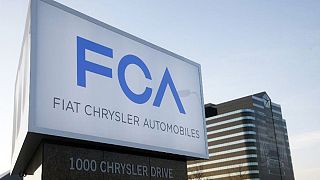 Fiat Chrysler has been accused of using undeclared software that allowed excess diesel emissions in 104,000 of its Jeep and Dodge vehicles.
We have done nothing illegal and the reports are blown out of proportion

Chief Executive, Fiat Chrysler Automobiles
The US Environmental Protection Agency said the accusation was the result of a probe that followed regulators' investigations of Volkswagen.
Fiat Chrysler Automobile said it would contest the EPA's assertions and vowed to prove that its emissions controls meet all regulations and so cannot be classed as VW style 'defeat devices'.
"Nothing illegal"
FCA Chief Executive Sergio Marchionne told reporters that it did not cheat on diesel emissions tests and rejects comparisons with Volkswagen.
He added: "We have done nothing illegal and the reports are blown out of proportion."
Expressing anger at the EPA announcements, Marchionne called them "grandstanding". He said: "The way that it has been described, I think, has been unfair to FCA, and that is the thing that disturbs me."
The news caused the carmaker's shares to slump in Milan and New York.
"There is nothing in common between the VW reality and what we are describing here," Fiat Chrysler CEO Sergio Marchionne tells reporters.

— Nathan Bomey (@NathanBomey) January 12, 2017
It's "absolute nonsense" to compare Fiat Chrysler, VW situations and anyone who does is "smoking illegal material," FCACEO Marchionne says.

— Nathan Bomey (@NathanBomey) January 12, 2017
What is Fiat Chrysler being accused of?
Regulators said FCA failed to disclose engine management software in 104,000 U.S. 2014-2016 Jeep Grand Cherokees and Dodge Ram 1500 trucks with 3.0-liter diesel engines. The undisclosed software results in increased emissions of nitrogen oxides. EPA is still investigating if the software constitutes a "defeat device."
"Failing to disclose software that affects emissions in a vehicle's engine is a serious violation of the law, which can result in harmful pollution," said Cynthia Giles, an EPA official, in a statement.
FCA said it will prove to the EPA that its emissions controls are justified and not 'defeat devices' under applicable regulations.
Eight pieces of software
The EPA said it has found at least eight undisclosed pieces of software that can alter how a vehicle emits air pollution.
EPA said Fiat Chrysler had recalled vehicles for one of the undisclosed pieces of software and had only used it in 2014 models.
Trump administration
By contesting the charge, FCA will push the case into the administration of President-elect Donald Trump. It is not clear how Trump's EPA will handle this or similar issues.
Trump, who takes office Jan. 20, has nominated Oklahoma Attorney General Scott Pruitt, a critic of federal environmental regulation, to lead the EPA.