Sharapova fired up for April return
Comments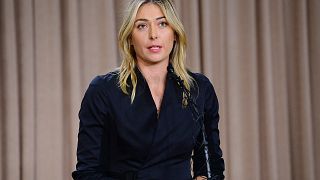 The former womens' tennis world number one Maria Sharapova, winner of five grand slam titles, will make her comeback after a 15-month drugs ban in April at the Stuttgart Grand Prix, an indoor clay court tournament she won three years in a row from 2012.
The Florida-based Russian's two year ban for using the banned substance Meldonium was reduced on appeal.
"I know that with this I face consequences and I don't want to end my career this way and I really hope that I will be given another chance to play this game. And I know that many of you thought that I would be retiring today and announcing my retirement but if I was ever going to announce my retirement it would probably not be in a downtown Los Angeles hotel with this fairly ugly carpet."
Sharapova tested positive at the Australian open, when she admitted she had taken Meldonium for years, and professed ignorance that it had recently joining the banned list of substances. Her April return means she will be able to compete at Roland Garros for the second major of the season, the French open.