Two years on, France commemorates victims of ISIL ally Amedy Coulibaly
Comments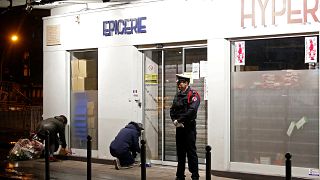 Ceremonies have been held in France in memory of four civilians and a policewoman who were killed during ISIL-inspired attacks two years ago in and around Paris.
Amedy Coulibaly is accused of shooting dead 26-year-old policewoman Clarissa Jean-Philippe in the Parisian suburbs in an attack he linked to the killing of 11 Charlie Hebdo journalists a day earlier.
Coulibaly went on to take 18 people hostage in a kosher supermarket in Porte de Vincennes in the east of the French capital. Four of them died.
A series of antisemitic incidents saw a higher-than-usual number leave France for Israel in 2015.
According to The Jewish Agency for Israel, some 7,900 people emigrated from France to Israel in 2015, compared to 7,231 in 2014 and 5,000 in 2016.