More beheadings in latest jail violence in Brazil
Comments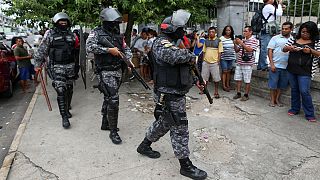 Another prison uprising in Brazil has left four more people dead. The latest violence once again took place in a jail in the jungle city of Manaus. Three of the dead had been beheaded.
The bloodshed comes just days after scores of inmates were killed during rioting at two prisons not far from Manaus, in a neighbouring state, increasing fears that the unrest could spread to the streets of major cities.
The government has reacted to the chaos in the country's penitentiary system by sending in federal troops.
In the past week almost 100 inmates have been killed in in several prisons as gangs vie for influence and territory both inside prisons and in shantytowns where trafficking operations are often based.
At least 31 inmates were killed as prison violence escalates and shocks Brazil https://t.co/9M7dhiaP9tpic.twitter.com/tPVb7dlPnE

— New York Times World (@nytimesworld) January 7, 2017
Brazil's most powerful gang, the Sao Paulo-based First Capital Command (PCC) split with the Rio de Janeiro-based Red Command gang when the PCC took over drug trading routes in Brazil's southeast.
Previously, the two groups worked together to ensure a heavy flow of drugs and arms over Brazil's borders.
Members of the PCC were targeted last Sunday in the first violent outbreak, which left 56 dead, many decapitated and butchered. It was Brazil's deadliest uprising in more than two decades.