Ivory Coast dismisses its security chiefs following military mutiny
Comments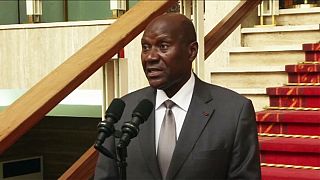 The heads of Ivory Coast's army, police and gendarmerie have been dismissed by the country's president following a two-day army mutiny.
Calm is said to have returned to the streets of the West African nations's second city Bouake after a deal was reached with disgruntled soldiers at the weekend.
A spokesman for President Alassane Ouattara announced the sackings.
Army chief General Soumaila Bakayoko, Gervais Kouakou Kouassi, the superior commander of the National Gendarmerie and Director General of the National Police Bredou M'Bia have been relieved of their commands with immediate effect.
Deal
The weekend uprising was the second such army mutiny in less than three years. As was the case with the first uprising, the government conceded to the low-ranking soldiers' demands and agreed to pay bonuses likely to cost state coffers tens of millions of dollars.
Years of conflict and a failure to reform the army, thrown together from rival rebel fighters and government soldiers, have left it hobbled by divisions.
Ivory Coast government, military agree to end two-day revolt | NewsHour</a> <a href="https://t.co/rmuIXIlGkK">https://t.co/rmuIXIlGkK</a></p>&mdash; PBS (PBS) January 8, 2017
In a separate development the country's Prime Minister Daniel Kablan Duncan resigned on Monday. His going had been delayed by the unrest but had been expected following the approval of a new constitution and parliamentary elections last month.
Ivory Coast Prime Minister Daniel Kablan Duncan resigns, dissolves government amid tensions https://t.co/RHBQmUdFtlpic.twitter.com/EaihsxHt7h

— Jokpeme World News (@jokpeme) January 9, 2017
"Many things have been accomplished by this government, but there are also many things left to be done because, as you know, the final objective is to ensure that we can achieve the President of the Republic of Ivory Coast's great ambition of making Ivory Coast an emerging country by 2020," said the outgoing premier.
President Ouattara kept hold of his majority in the Dec 18 parliamentary poll. However legislative elections are usually followed by a change of government as a matter of procedure. Quattara is expected to name a new premier shortly.