Egypt police station suicide bombing in Sinai kills 10
Comments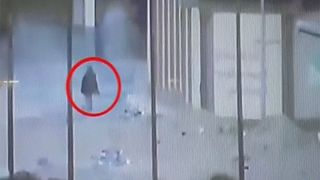 At least 10 people, mostly police officers, have been killed in northern Sinai after a suicide bomber rammed a lorry into a security check point.
Nearly a dozen civilians are also said to have been injured.
Earlier, Egypt's interior ministry released CCTV footage purportedly showing the killing of one man said to have been involved in the attack in the city of al-Arish.
A rubbish truck filled with explosives was reportedly used to carry out the strike.
Since 2012 an Islamist insurgency has gathered pace in Sinai.
Security officials in Egypt say around 20 men using rocket-propelled grenades also took part in the attack in al-Arish
Three floors of a police station in the Mediterranean coastal city were destroyed in the attack.