Watch: Stranded swimmers take a dip in the snow
Comments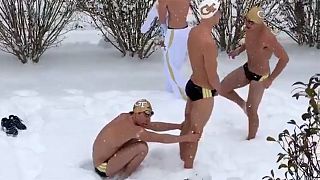 A team of stranded US athletes have refused to let the poor weather dampen their spirits… by swimming in the snow!
Freezing conditions meant the quartet, from Georgia Tech university, could not get to a swimming and diving contest in Virginia.
But instead of sulking in their hotel rooms, they took to the snow outside to fine-tune their relay technique.
The footage, tweeted by Aidan Pastel, was shared more than 1,400 times.
Day two of the contest, in Blacksburg, was called off after overnight snowfall caused poor road conditions.