Turkish police arrest 18 people linked to Izmir attack
Comments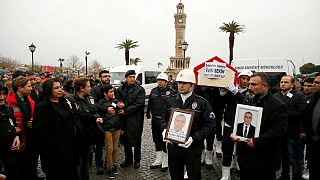 As mourners gathered to pay tribute to the victims of a car bombing and shootout in Izmir, Turkish police announced the arrest of 18 people in connection with the attack.
A police officer and a court employee were killed by the blast outside the courthouse and nine others were wounded.
According to the Justice Minister there is 'no doubt' the Kurdistan Workers Party or PKK was behind the attack.
In recent months, Turkey has been targeted by both PKK and Islamic State militants, but so far no group has claimed responsibility for the assault in Izmir.
Turkey is part of the US-led coalition fighting ISIL in Syria, as well as battling an insurgency by the PKK in the largely Kurdish south-east.
The latest arrests came after police detained another 20 suspected Islamic State militants in Izmir linked to the New Year's Eve nightclub attack in Istanbul.