Petrol price hike sparks protests and looting in Mexico
Comments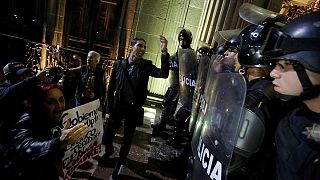 Anger over a petrol price hike has sparked protests and looting across Mexico.
It has resulted in four deaths, the ransacking of 300 stores and the arrest of more than 700 people, according to officials.
The combination of blockades and looting forced many businesses in Veracruz to close, threatening the supply of basic goods and fuel.
The president defended the decision to increase prices by 20 per cent, making the cost of a gallon of petrol almost as high as the daily minimum wage.
"In the whole world, the price of petroleum increased up to 60 percent," Enrique Peña Nieto said in a televised address. "This in turn has increased the international price of gasoline, which affects us directly because for several years Mexico has imported more than half of the fuel we consume."
The price hike is part of a gradual year-long deregulation of the energy sector, and comes as Mexicans are already battling rising inflation and a weak currency.