Watch: Ski patrol rescues boy dangling from chairlift
Comments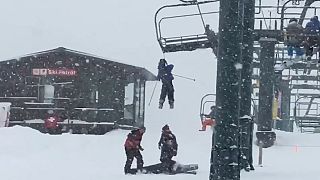 The ski patrol at Sundance Ski Resort in Provo, Utah, rushed to the aid of a young boy on January 3, after he became stuck on a chairlift.
After noticing that the child, reported to be between 10 and 12 years old, had become attached to the lift by his backpack, lift operators stopped the machine and put a mat under where he was hanging.
Operators then proceeded to put a ladder up to the lift with two of them climbing into the chair to pull the boy to safety.
The rescue, which was over in only six minutes, was filmed from another chairlift at the resort.