Istanbul gunman 'may have had combat training'
Comments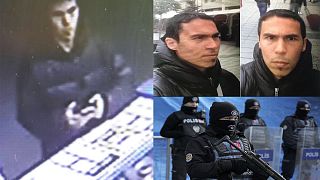 A profile of the gunman who killed 39 people in an Istanbul nightclub on New Year's Day is begining to emerge.
Although Turkish police have not named their chief suspect, the man they are looking for is thought to have entered Turkey in November accompanied by his wife and two children.
While he is still at large his family has been detained but they deny any knowledge of claimed links with ISIL.
Media reports
Suspect may be of Central Asian origin – possibly Kyrgystan.
He may have had combat training – possibly in Syria.
Family said to be with him so as not to attract border security notice.
Sixteen people have now been arrested in connection with the attack, most are foreign nationals.
#Turkey nightclub attack: killer 'brought his family to deflect attention while he planned attack' https://t.co/NK7zAoHCog#Reina

— Anonymous (@YourAnonNews) January 3, 2017
Witnesses of the shooting remain traumatised describing the gunman calmly reloading his automatic weapon half a dozen times and shooting the wounded as they lay on the ground.
The club's co-owner Mehmet Kocarslan says he's been left not knowing how to carry on. "Should I keep the business going and not give in to terror or should I carry the weight of those 39 lost lives and close the place down … "
Three days after the attack and hundreds of people gathered outside the Reina nightclub carrying flowers in tribute to the victims and to condemn violence.
Turkey's parliament has voted in favour of extending emergency rule for a futher three months. It was first imposed in July after an abortive military coup.
The mass shooting on New Year's in Istanbul is the latest in a series of terror attacks in Turkey https://t.co/OBUpoCpp2rpic.twitter.com/vkXpoEPDTU

— The New York Times (@nytimes) January 1, 2017