[watch] Turkey fashion designer attacked after criticising ruling party
Comments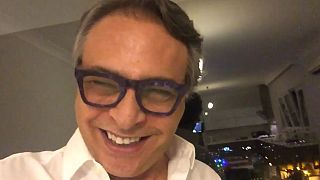 Turkish fashion designer Barbaros Şansal was attacked by a mob at Ataturk International Airport after he was deported from North Cyprus.
As he descended the stairs of the aeroplane he was set upon by a crowd that was waiting on the tarmac. He was later bundled into a car and taken to a police station.
The deportation followed the posting of a video criticising Turkey. The Northern Cyprus government says he was sent back for a drug offence.
İbrahim Melih Gökçek, the Mayor of Ankara, posted footage of the incident calling it the nation's response.
BARBAROS ŞANSAL KIBRIS'DAN GETİRİLDİ…
UÇAKTAN İNERKEN TÜRK MİLLETİ TEPKİ GÖSTERDİ…
İNSANLARI TAHRİK ETMEBARBOROS… pic.twitter.com/WDRNXa4Vq1

— İbrahim Melih Gökçek (@06melihgokcek) 2 janvier 2017
Sansal's video has since been removed from Twitter.
He spoke of journalists arrested in Turkey and corruption within the ruling AKP. In it he says: "With this many journalists arrested, with this many children being abused, with this much corruption and bribery being taken by those in power, with the bigots in the streets spreading vileness with you, are you still celebrating the new year?
"No no, I'm not celebrating. Do you know what I'm going to do? I'm going to drink all the alcohol in the bar and the house. I'll drink all of it, and not leave even a drop for you."
The 59-year-old was arrested at Ercan International Airport on the Turkish side of Nicosia in 2015 after found to be in possession of six grams of marijuana.
In a statement the government of North Cyprus said:
"Barbaros Sansal should have been deported before for the crime he had committed (because he was found to be in possession of marijuana last year) but he wasn't.
"We couldn't tolerate someone anymore who was constantly seeking to profit from our free society by insulting our motherland [Turkey]. By deporting him, we acted acted according to the law."