Syrian rebels freeze peace talks 'until ceasefire is fully implemented'
Comments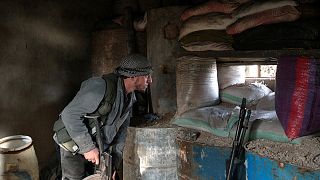 Syrian rebel groups have threatened to boycott peace talks being prepared for later this month in Kazakhstan.
They cited ceasefire violations accusing Syrian government forces and its allies as being responsible.
On Monday (Jan 2 ) the rebel-held area of Rastan in Homs province was hit by shell and missile fire. It was unclear who was responsible.
"Ceasefire" .. Assad's way.#Rastan#Syria 02-01-2017pic.twitter.com/YR4Qgio4lA

— شبكة الثورة السورية (@RevolutionSyria) January 2, 2017
Turkey and Russia which are backing opposing sides in the conflict, brokered the ceasefire deal last week. On New Year's Eve the UN Security Council voted unanimously to welcome Moscow and Ankara's efforts to end the fighting in Syria and to organise peace talks.
The new ceasefire deal applies across Syria but excludes ISIL jihadists and Jabhat Fateh al-Sham (JFS), and the Kurdish YPG militia.
In a statement signed by the mainly moderate rebel groups operating under the umbrella of the co-called Free Syrian Army (FSA), it said "the regime and its allies have continued fighting and making territorial advances".
#Breaking || #Ceasefire#FSA Statement:
- We freeze all discussions until ceasefire fully implemented by regime, their violations continue pic.twitter.com/DopuozxHF9

—

FSA

News (@FSAPlatform) January 2, 2017
The main violations have been reportedly in an area northwest of Damascus in the rebel-held Wadi Barada valley, where government forces and the Iran-backed Lebanese Hezbollah group have been trying to press advances in an ongoing campaign.
The statement went on to question Russia's ability to force the Syrian government to abide by the terms of the ceasefire deal.