Syria rebels threaten to declare ceasefire 'null and void'
Comments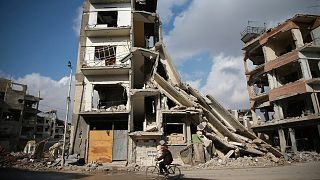 With violence persisting in some parts of Syria, rebel groups are threatening to declare the latest ceasefire "null and void" unless attacks stop.
Clashes and air strikes have continued in places since the ceasefire began on Friday, although the UK-based war monitor, the Syrian Observatory for Human Rights, says the truce is largely holding.
"Continued violations by the regime and bombardment and attempts to attack areas under the control of the revolutionary factions will make the agreement null and void," a statement signed by a number of rebel groups said on Saturday.
It said government forces and their allies had been trying to press advances, particularly in an area northwest of Damascus.
Russia, which supports Syrian President Assad, brokered the ceasefire with Turkey which backs armed opposition to Assad. The truce is aimed at preparing the way for peace talks in the new year.
There has been confusion over which groups in the opposition are included in the ceasefire although it definitely does not apply to ISIL, which has made enemies on all sides of the conflict.
In war-shattered Aleppo, one immediate concern is water. People are being forced to use public wells, complaining that ISIL has cut the main supplies to the formerly rebel-held east of the city.
"ISIL cut the water in Aleppo," said one man.
"They cut drinking water. They deprived us of life and everything. We don't have anything and it is all because of them – ISIL."
Every thing must be done to #protect civilians, to ensure their safety and well-being and access to essential services #Aleppo#Syriapic.twitter.com/2j8rgu9hAa

— Vivian Toumeh (@VToumeh) 29 décembre 2016
Some of those evacuated from eastern Aleppo as government forces moved in are now at a camp built by the Turkish Humanitarian Relief Foundation (IHH) in Idlib.
While the ceasefire deal will save lives, no doubt, as long as it holds for the most part, some remain haunted by the violence they have seen.
Displaced Hassan Izzo said he was forced to leave his home because of heavy air strikes, including with barrel bombs and cluster bombs.
"We left our home with great suffering. The regime has no credibility at all," he said.
For him and the countless other victims of this conflict, the future remains uncertain. They can only hope that 2017 will finally bring an end to the suffering of years of war in Syria.
Every child needs a safe and warm house with his or her family away from the fear of bombs. pic.twitter.com/sE5wY2rx6r

— Humanitarian Relief (@IHHen) 20 décembre 2016
with Reuters