Syrian held in Germany 'sought ISIL funds for terror attack'
Comments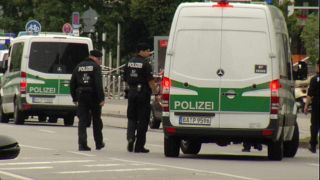 German prosecutors say a Syrian man arrested at the weekend in the west of the country tried to get funds from ISIL to carry out a terrorist attack.
The 38-year-old was detained on Saturday in the province of Saarland and is said to have contacted the so-called Islamic State seeking money to buy vehicles to drive into crowds.
Police say they intercepted messages on his mobile phone which showed he asked for 180,000 euros to buy eight vehicles.
"In his respective communications with contacts linked to IS, he (the suspect) offered or suggested to repaint cars to make them look similar to police cars, load them with explosives, position them in a crowd of people and then detonate them," said Hugo Müller,
Saarland Deputy Police Chief, on Monday.
The suspect, who comes from the ISIL stronghold of Raqqa, has denied the accusations saying he wanted to trick the militant group into sending him money which he would use to support his family.
He entered Germany in December 2014 and was given permission to stay a month later.
Last month Anis Amri, a failed Tunisian asylum-seeker, drove a truck into a Christmas market in Berlin, killing 12 people and injuring dozens more. He was later shot dead in Italy by police in Milan.
Syrian suspected of planning truck attack in Germany arrested: prosecutors https://t.co/Coz7D4vWuOpic.twitter.com/rVxyPV2cpQ

— Reuters Top News (@Reuters) January 2, 2017