Deaths reported as southern US states hit by heavy storm
Comments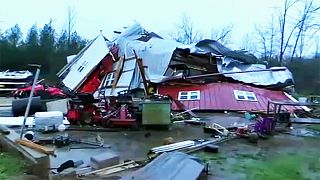 Southern states in the US are being battered by a heavy storm, with deaths, injuries and widespread damage reported.
A tornado in Alabama is thought to have killed four people.
Other twisters have been reported elsewhere, with flooding also reported in some parts of the south.
One elderly man is reported to have drowned in flood waters.
Tens of thousands of people are also without electricity as strong winds bring down power lines.
Officials say the weather is expected to improve over the next 12 hours.