Turkey nightclub attack - what we know
Comments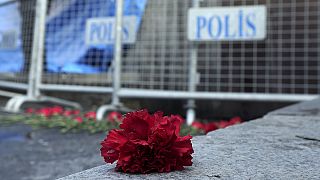 Whoops of delight fill the festively-decorated Reina nightclub in Istanbul as the countdown into a new year begins.
"Bring your loved ones and real friends close," says the DJ, while revellers hold up sparklers amid the tumbling silver glitter.
"Somebody, everybody: MAKE. SOME. NOISE!" continues the host, as smartphones are held aloft to capture the atmosphere.
The footage, posted online by Ukrainian Natasha Volnova, was one of the last to capture happiness at the exclusive venue.
An hour later, around 1.15am, with the party in full swing, at least one attacker approached the nightclub, initially shooting a police officer and civilian outside.
Once inside the packed nightclub, which is perched on the Bosphorus, the assailant began shooting at random.
CCTV footage captured at 1.23am purports to show an attacker dressed in white.
Some of the estimated 800 revellers dived into the river, while others threw themselves under tables as he sprayed bullets from an automatic rifle.
Fleeing revellers say they heard the attacker approach, crying 'Allahu Akbar' (God is Greatest) as his footsteps crushed the broken glass.
Thirty-nine people, including at least 15 foreigners, were killed in the incident, for which ISIL has claimed responsibility. Sixty-nine people were injured and are in hospital, with four of them in a critical condition.
Officials say nationals from Saudi Arabia, Morocco, Lebanon, Libya, Israel were among those killed, as well as Turkish-Belgian and a Franco-Tunisian woman.
The gunman is later thought to have fled amid the chaos.
Dozens of ambulances and police vehicles were sent to the scene, an area on the city's European side.
A massive security operation is underway to track down the gunman, although some witnesses claim there was more than one attacker.