Police officers detained in Myanmar over disturbing video
Comments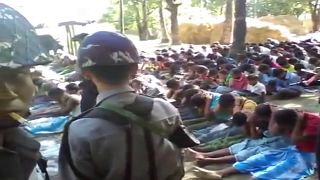 There is a storm over a police video that has appeared on social media in Myanmar.
At least four officers have been detained over footage that appears to show police beating members of the Rohingya Muslim minority.
Govt to take action against police filmed beating villagers in Rakhine State last month | #Myanmar#Rohingyahttps://t.co/bUnTKia3Bypic.twitter.com/B2LqfJFA10

— The Myanmar Times (@TheMyanmarTimes) January 2, 2017
The images, filmed by an officer involved in the rounding up of villagers, have been widely shown on social media and by Myanmar broadcasters.
Authorities promised to take action after the video emerged, apparently filmed during a crackdown in Rakhine State, which borders Bangladesh in the country's northwest.
Police have been hunting for suspects after nine officers were killed in attacks by gunmen on border posts in October.
Thousands of Rohingya Muslims are reported to have fled into Bangladesh.
Rights groups say residents have complained about killings and abuse, including rape, accusations denied by the government.
Beaten and kicked in the face. These Rohingya Muslims were apparently attacked by police officers in Myanmar. pic.twitter.com/nQmHO4s5Pe

— AJ+ (@ajplus) January 2, 2017
This is the evidence how #Myanmar troops torture the #Rohingya. pic.twitter.com/A2vtoqIf0A

— Ro Nay San Lwin (@nslwin) December 31, 2016
.mehdirhasan</a> on Myanmar's leader, Aung San Suu Kyi, turning a blind eye to violence against the Rohingya. <a href="https://t.co/TQzSJttd5C">pic.twitter.com/TQzSJttd5C</a></p>&mdash; Al Jazeera English (AJEnglish) December 31, 2016
End violence in Myanmar, Nobel laureates urge UN</a> Security Council <a href="https://t.co/Yn1rO1d4PB">https://t.co/Yn1rO1d4PB</a></p>&mdash; Richard Branson (richardbranson) December 30, 2016