First funerals held for victims of Istanbul nightclub shooting
Comments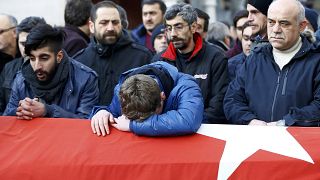 As the hunt continues for the gunman who killed 39 people in a New Year's shooting rampage in a nightclub in Istanbul, relatives of the victims are organising funerals.
In a mosque in the city of Mersin, a service has been held for a policeman shot in the early moments of the assault, 21-year-old Burak Yildiz.
#TurkeyBlast#Kurdish militants claim Istanbul carnage AFP</a> Policemen funerals in Istanbul today <a href="https://twitter.com/hashtag/AFP?src=hash">#AFP</a> Photo by <a href="https://twitter.com/yasinnakgul">yasinnakgul & ozannkosee</a> <a href="https://t.co/gDFiUbBCRa">pic.twitter.com/gDFiUbBCRa</a></p>&mdash; AFP Photo Department (AFPphoto) December 12, 2016
In Istanbul, family and friends paid tribute to 35-year-old security guard Fatih Cakmak, another one of the first victims to be buried.
The owner of the Reina nightclub, Mehmet Kocarslan, spoke to mourners.
"How did he manage to get in despite all the intelligence and security measures?" he asked.
"I can only call this creature a demon. I can't even say he's a terrorist. I don't know how he managed to get in."
Funerals are held for victims just 13 hours after Istanbul nightclub massacre https://t.co/43Nd0ycgO8pic.twitter.com/oBSJH2buUC

— Daily Mail Online (@MailOnline) January 1, 2017
People have also been laying flowers outside the nightclub, which has been covered over with curtains.
Police say eight people are being questioned in connection with the attack but the gunman is not among those arrested.
Funerals are being held in Istanbul for the victims of the nightclub attack on New Year's Eve pic.twitter.com/1UxQNWQC6Y

— The Telegraph (@Telegraph) January 2, 2017