Man held over 'threat' to New Year's Eve in Sydney
Comments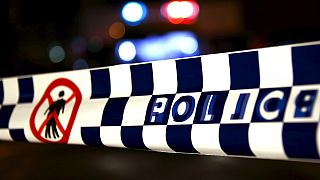 A man has been arrested in Sydney, Australia, for allegedly making an online threat to the city's New Year Festivities.
The 40-year-old was detained at the airport after getting off a flight from London. Police say he has been charged under laws relating to suicide or encouraging suicide, rather than anti-terrorism laws.
Police believe the detained man was acting alone and had "no links to any cultural groups".
Security is tight for Saturday night.
"Certainly from our perspective, we will be using a number of strategies, from not just in the city but from further out and not just police. It is about a whole government approach to ensuring the highest level of safety for the public," said Mick Fuller, Assistant Commissioner of New South Wales Police.
The challenge of policing Sydney harbour follows police raids in another Australian city, Melbourne, a week ago, which authorities say foiled an ISIL-inspired plot to attack prominent sites there at Christmas.
Sydney's massive fireworks display is being readied for one of the world's biggest New Year celebrations and one of the most iconic, with up to 1.5 million revellers set to hit the streets to welcome in 2017.
.@nswpolice ramp up security for 1.5 million to descend on #Sydney Harbour for New Year's Eve celebrations #nyehttps://t.co/fatuOgzhNwpic.twitter.com/ILDxluwTym

— ABC News Sydney (@abcnewsSydney) 30 décembre 2016
Australia, a staunch U.S. ally which sent troops to fight in Afghanistan and Iraq, has been on heightened alert for attacks by home-grown radicals since 2014.
with Reuters