Death Stars: from David Bowie to Mohammad Ali
Comments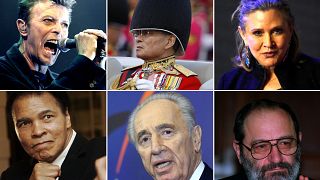 The year 2016 saw the passing of a host of dignitaries, sports personalities and celebrities.
At the start of the year came the shock news of the death of David Bowie on 10 January. The English singer, songwriter and actor succumbed to liver cancer, two days after the release of his final album Blackstar.
He was followed days later by Harry Potter star Alan Rickman, Italian director Ettore Scola and former United Nations Secretary General Boutros Boutros-Ghali.
Among the higher-profile names on the list was Prince. The singer, songwriter, multi-instrumentalist, record producer and musical innovator died of an accidental overdose on 23 April.
Singer George Michael was found dead on Christmas Day at his home in southern England.
Initial reports said the 53-year-old former 'Wham!' star died of heart failure, although the exact circumstances surrounding the death of the star, who had suffered from drug problems, are still not known.
The year also saw the passing of former leaders Fidel Castro, Shimon Peres and Carlo Azeglio Ciampi.
In the sporting arena we bade goodbye to Mohammad Ali, Arnold Palmer, Carlos Alberto and Johan Cruyff.