War on drugs in the Philippines: cut criminal liability age from 15 to 9?
Comments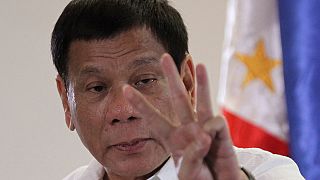 Debate is raging in the Philippines over the issue of children getting caught up in the controversial war against drugs being waged by the country's president.
The government of Rodrigo Duterte is preparing legislation to lower the age of criminal liability from 15 to nine, amid concern that drug gangs are using children and teenagers too young to be jailed.
Duterte says the country is producing what he calls a "generation of criminals" and tough action is needed.
But some social workers say the focus should be on improving rehabilitation and tackling poverty.
"If we punish children, later on when they grow up, that will produce the same outcome," said social worker April Amistoso.
"They will punish others also. So they'll be labelled as criminals. But if we help them, they could be a good factor in the community."
More than 6,000 people have been killed in the past six months during Duterte's war on drugs, alarming key allies and human rights groups.
But there is public support for the new measures.
Street vendor Andrea Gitering said: "We really need this law because the adult criminals can use the children (to commit crime).
"Because if you use children, they are confident the children can get away with it since they won't be jailed, unlike if adults commit crime they can get sentenced to jail."
President Duterte denies that police are also turning a blind eye to vigilante groups suspected of being behind many of the drug-related killings.
And other measures he is considering is a nationwide curfew for minors and the bringing back of capital punishment.