Turkish court grants bail to three writers on trial in Istanbul
Comments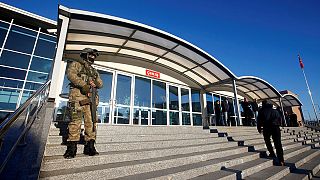 A Turkish court has granted bail to three writers, including a well known novelist, at the start of their trial on charges of supporting Kurdish militants.
Asli Erdogan – who is not related to the country's president – is among nine journalists and writers who went on trial in Istanbul on Thursday.
Supporters held a protest outside the court.
Sezgin Tanrikulu from the main Turkish CHP opposition party told reporters: "They were released from one prison to another. Turkey is like a prison now. It's become a prison for thinkers and writers.
"However their release does give hope. I hope that in 2017 other journalists, friends and Ahmet Sik, who was detained today, will be released."
Sik is another veteran writer taken into custody over comments he tweeted.
The nine writers on trial were arrested in August as part of a raid against the now closed down pro-Kurdish Ozgur Gundem newspaper.
They deny claims of being members of the outlawed Kurdistan Workers' Party and threatening Turkey's unity.
The Turkish Union of Journalists says press freedom and freedom of speech is seriously under under threat in Turkey.
It says over 100 journalists are now in prison.