Floods kill at least eight in Bolivia
Comments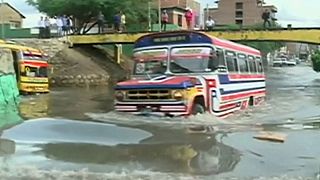 Floods caused by torrential rain in Bolivia have killed at least eight people.
The national weather service has issued a high-level alert for heavy rain in five areas in the west of the country, including the administrative capital La Paz.
The downpour comes on the back of the country's worst drought in 25 years.
In Cochabamba, the flooding stranded drivers and pedestrians alike. Even an ambulance had to be rescued from the rising waters.