Trump calls UN "sad" club after vote on Israeli settlements
Comments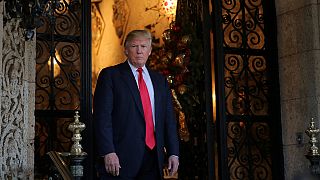 US President-Elect Donald Trump has openly criticized the United Nations, just days after the UN Security Council voted a resolution demanding Israel stop building settlements.
On Twitter, Trump mocked the institution as "sad," declaring it "just a club for people to get together, talk and have a good time."
The United Nations has such great potential but right now it is just a club for people to get together, talk and have a good time. So sad!

— Donald J. Trump (@realDonaldTrump) December 26, 2016
Trump had vigorously lobbied against resolution 2334, which describes Israel's settlements in the West Bank and East Jerusalem as illegal and an obstacle to peace with the Palestinians.
The text passed on Friday (December 23), after the United States broke away from the tradition of using its veto to protect Israel, and instead chose to abstain from voting. The move was widely seen as parting shot by US President Barack Obama, who has grown frustrated with failed peace talks over his tenure and fears that continued Israeli settlement-building in occupied territory could jeopardize a two-state solution.
On way out door Obama turns dagger…What UN Vote on Israeli Settlements Means — and What's Next – Bloomberg https://t.co/gRKGBRsz44

— Mike Smith (@michaelvsmith) December 26, 2016
Israeli Prime Minister Benjamin Netanyahu lashed out against the Obama administration, calling its move "shameful and underhanded" and accusing Washington of orchestrating the "gang-up".
Netanyahu summoned the US ambassador to his office and said he looked forward to working with Trump. The Israeli foreign ministry also summoned ambassadors from 10 countries with embassies in Israel among the 14 that backed the resolution
Modern "Dreyfus trial"
Israel has already said it does not plan to abide by the terms of the resolution and will continue to build settlements in the West Bank and East Jerusalem.
On Monday, Defence Minister Avigdor Lieberman criticised an upcoming Middle East peace conference organised by France, calling it a new anti-Semitic "Dreyfus trial".
Representatives of around 70 countries are due to attend the January 15 conference aimed at restarting long-stalled Israeli-Palestinian peace efforts.
"This is not a peace conference. It's a tribunal against the state of Israel," Lieberman told members of his Yisrael Beitenu party. "It's a Dreyfus trial in a modern version, what they're preparing there in Paris for January 15, with one difference. Instead of one Jew being on trial, it will be the entire Jewish people and the state of Israel."
Alfred Dreyfus was a French Jewish army captain wrongly convicted in 1894 of espionage and treason whose ordeal became a symbol of injustice and anti-Semitism.
Who needs fake news when the real version is already so insane? Def. Min. Liberman compares French peace confab to antisemitic Dreyfus trial

— Joshua Davidovich (@JMDavido) December 26, 2016
Dec. 22, 1894: Capt. Alfred Dreyfus wrongly convicted of espionage. The scandal will rock France. https://t.co/bTUCjgXERg

— Ben Steelman (@BenSteelmanSN) December 22, 2016