Romania's President rejects left's nominee for prime minister
Comments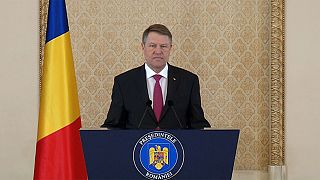 Romania's president Klaus Iohannis has refused to nominate the country's first Muslim prime minister.
The Romanian head of state called on the Social Democrat party – winners of this month's December 11 election – to pick another candidate to lead the government, instead of Sevil Shhaideh.
Without giving a reason for his decision, Iohannis told reporters in Bucharest.
"I carefully examined the pros and cons and I have decided not to accept this nomination. Therefore, I request the PSD-ALDE coalition to put forward another name.''
Shhaideh is a relative political unknown who briefly served as Romania's regional development minister in 2015. If she had been approved, she would have become Romania's and the EU's first female Muslim prime minister.
Opponents insist she lacks sufficient experience.
The Social Democrat party's chairman Liviu Dragnea is barred from becoming prime minister due to a conviction for electoral fraud, and the opposition have accused him of trying to run the country from the sidelines by installing Shhaideh as his puppet.
Dragnea's Social Democrats command a majority in parliament with their junior coalition partners, the ALDE party.