Best of 2016: Euronews' 360 videos
Comments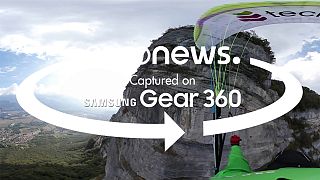 In 2016 euronews has embraced immersive journalism and 360 videos as a reporting tool to a scale, frequency, and multilinguism unparalleled in Europe.
With the support of Google and Samsung, we have launched different formats, from debates about the future of space exploration, and the atmosphere of the Euro2016 football tournament, to tours of ancient monuments and modern factories. From the reality of life in a war zone and the California desert to backstage at the opera.
We don't see Virtual Reality journalism as the media of the future, we see it as the media of the present.
We don't think it's a gimmick, or a bonus, we see it as the best way to tell many stories.
We don't think it's just for pretty pictures, we believe it can helps audience appreciate beauty but also understand more complex issues.
Ultimately, it brings people closer to the story and empowers them to explore it how they wish.
This best of video present the very best of what we have published since June 2016.