Argentine finance minister is fired as recession bites
Comments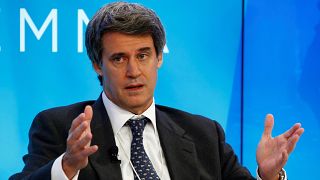 Can a cabinet reshuffle bring relief to recession-hit Argentina?
Finance Minster Alfonso Prat-Gay has been forced out, as President Mauricio Macri tries to turn things around.
Growth has been elusive during the first year of his centre-right administration and patience is wearing thin as a long-awaited recovery fails to materialise.
President Macri's ability to carry out the reforms Argentina needs is cast in doubt https://t.co/fHFEcMwxEx

— The Economist (@TheEconomist) 22 décembre 2016
Earlier this month, tens of thousands of leftist activists took to the streets to commemorate the 15th anniversary of Argentina's economic crash in 2001, that led to rioting and chaos.
But the mass demonstration in Buenos Aires on December 20 was also a protest at the policies of the Macri government. And neither a change of personnel nor the division of the Finance Ministry into two is likely to quell leftist protesters' anger.
"We have come to demand the same things we did in 2001" said Vilma Ripoll, leader of the Socialist Workers Movement political party.
"We have come to demand an end to misery, to hunger, to lay-offs. This government has not fulfilled any of its campaign promises."
Argentina recession lingers as economy shrinks in third quarter https://t.co/rzeSVYvdeBpic.twitter.com/ATql7nfvpr

— Reuters Top News (@Reuters) 23 décembre 2016
In September, authorities admitted that nearly one-third of Argentina's population lives in poverty.