Putin denies state-sponsored doping programme in Russia
Comments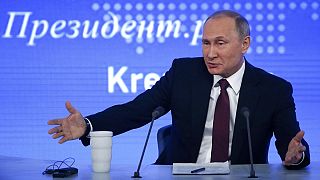 Russian president Vladimir Putin on Friday once again denied allegations of state-sponsored doping programme in the country, but admitted Russia "does have problems with doping".
Putin's comments came on a day it was announced twenty eight Russian competitors face disciplinary proceedings after their urine samples from the 2014 Winter Olympics were allegedly manipulated.
Putin said: "State-sponsored doping system has never been created in Russia, it is simply not possible, and we will do everything we can to make sure such state-sponsored system of doping support never exists. That's first, and I want to say it once again. And the second – as in any other country, we have this problem and we have to admit it. But by admitting it we must do all we can to prevent use of doping."
A World Anti Doping Agency-commissioned report (The McLaren report) has revealed state-sponsored doping in Russia and stated that over 1,000 of the country's athletes – including Olympic medallists – had profited from the programme.