Amri pledged allegiance to ISIL in video
Comments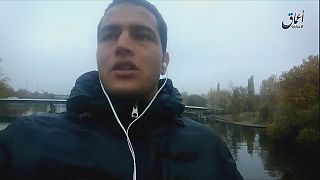 The militant group calling itself Islamic State (ISIL) acknowledged on Friday the death of Berlin Christmas market attacker Anis Amri, shot dead in a police shootout overnight in Milan.
ISIL had already claimed responsibility for Monday's truck attack, which killed 12 people and wounded dozens more in the German capital.
The group has now confirmed through its Amaq news agency that Amri carried out the rampage, and that he was killed in Milan during a shoot-out with Italian police.
"The executor of the Berlin attacks carries out another attack on Italian police in Milan and is killed in a shoot-out," it said in a statement.
Amaq posted a video of Amri pledging allegiance to ISIL's leader Abu Bakr al-Baghdadi and calling for supporters of the militant group to take revenge of "crusader pigs" bombing Muslims. "Their blood will not go in vain. We are a nation behind them and will take revenge for them," he said.