German police raid properties in Berlin in search for truck attack suspect
Comments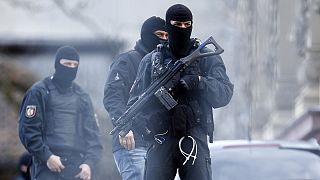 German police have carried out raids on properties in Berlin as they attempt to track down the suspect in the truck attack on a Christmas market.
In a separate operation, counter-terrorism forces arrested four people in Dortmund, local media reported.
A Europe-wide manhunt is underway for Anis Amri, a Tunisian national, whose ID documents were found in the truck used in the attack. The German prosecutor warned he could be armed and dangerous.
UPDATE: Amri's fingerprinters found on the door of the truck used in the attack, German media reports.
According to his family, Anis left Tunisia seven years ago as an undocumented migrant and had spent time in prison in Italy.
"I am shocked like every Tunisian citizen who heard about it," Abdelkader Amri, Anis' brother told a reporter at the family's home in Oueslatia. "When the police came to the house to take my mum, then we knew it was my brother, Anis. We (he and his brother) don't live here (Oueslatia), we live in the capital, Tunis. We just arrived."
"He was very young when he left, he was 16, 17 years old," a neighbour told a reporter. "He went to Italy illegally after the revolution, when he was involved in stealing a vehicle."
Spoke to father of Anis Amri- suspect in #Berlin massacre.He said his son was a drug-taking,drinking troublemaker radicalized in Europe

— Bel Trew – بل ترو (@Beltrew) December 22, 2016
All across the continent border checks have been stepped up after a European Arrest Warrant was issued, and a 100,000 euro reward was offered for any information leading to his arrest.