Berlin attack suspect - what do we know?
Comments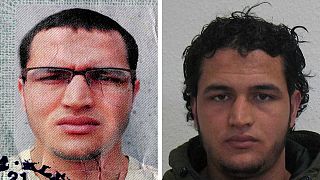 Anis Amri, 24, is the subject of a Europe-wide manhunt over the Berlin Christmas market lorry attack.


Police say he is an asylum seeker from Oueslatia in rural central Tunisia.


Amri's father says his son left Tunisia seven years ago.


Media reports say he spent four years in prison in Italy over a fire in a school, after having arrived in the country and declared himself as an 'unaccompanied child' in 2011..


Ralf Jaeger, interior minister of the western state of North Rhine-Westphalia (

NRW

) says Amri arrived in Germany in July 2015 and his asylum application had been rejected.


Authorities wanted to deport him back to Tunisia but couldn't because some of his documents were missing, added Jaeger.


Amri had been living in Berlin since February but had more recently been in

NRW

.


Police say Amri is 1.78 metres tall and weighs around 75kg. They say he could be armed and violent.


Amri had already been under surveillance amid suspicions he was preparing an attack, justice authorities in Berlin told

AFP

. They added he was also suspected of committing a robbery to finance the buying of automatic weapons.