Israel's ex-president freed from jail after serving five years for rape
Comments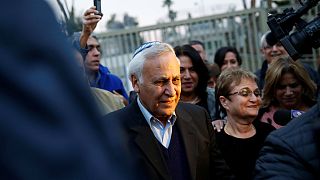 Israel's former president Moshe Katsav has walked free from prison, winning early release, five years after being jailed for rape.
Katsav left prison in central Israel accompanied by his wife and other family members.
The 71-year-old was sentenced in 2011 to seven years behind bars after being convicted of two counts of rape, sexual harassment, indecency and obstruction of justice.
Appointed in 2000, Katsav was forced to resign in 2007, two weeks before his term as president was set to end.
His downfall disgraced Israeli politics but was seen as a key victory for women's rights
The decision by a parole board to release Katsav early, however, has sparked controversy in Israel. Opposition politicians say the move sends out the ''dangerous message'' that if you are well connected you can get away with a less harsh punishment for rape.