Tennis player Petra Kvitova injured in knife attack
Comments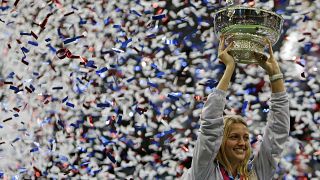 World number 11 tennis player Petra Kvitova has been attacked with a knife in her apartment in the Czech Republic. She has said she is "fortunate to be alive".
The two-time Wimbledon winner is receiving medical treatment and though her injuries are not life threatening, there is concern that they could affect her playing.
Thank you for all your messages. As you may have already heard, today I was attacked in my apartment by an individual with a knife

— Petra Kvitova (@Petra_Kvitova) December 20, 2016
Czech radio reported that the injuries were to Kvitova's powerful left-hand which she uses for her signature groundstrokes.
In my attempt to defend myself, I was badly injured on my left hand. I am shaken, but fortunate to be alive. The injury is severe and I will

— Petra Kvitova (@Petra_Kvitova) December 20, 2016
The tennis star was assaulted in her home in Prostejov, 260km southeast of Prague. Her spokeswoman Karel Tejkal told CTK news agency the attack was "a random criminal act".
Police spokesman Frantisek Korinek said the attacker entered the apartment at around 8.30am local time using a "ruse" before stealing 5,000 Czech Koruna (€185). Police have launched a man-hunt.
Kvitova seems to be in good spirits despite the ordeal. She made the following statement on Facebook:"What has happened to me was not pleasant at all, but it is already behind me," adding "the main thing for me now is that the doctors will determine how my hand is doing. I trust them and I believe that it will end well."
need to see specialists, but if you know anything about me I am strong and I will fight this. Thank you all again for your love and support

— Petra Kvitova (@Petra_Kvitova) December 20, 2016