Zurich mosque shooting gunman was 'Swiss with no Islamist links'
Comments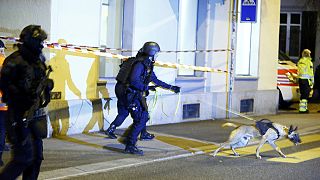 Police in Zurich say a man who shot and injured three people at a mosque on Monday was a young Swiss man with Ghanaian roots who had no apparent links to Islamist extremism.
The 24-year-old's body was found a few hundred metres from the mosque, under a bridge by a river. It's thought he took his own life.
The man is thought to have killed another man on Sunday. Police say they don't know anything about his motives.
The gunman who came from the nearby town of Uster had stormed into the Islamic centre on Monday afternoon, opening fire on worshippers.
Two of the three victims were seriously injured in the attack, which took place near Zurich's main train station.
Two of those shot are in their thirties, the other is said to be 56.
Swiss media say the mosque is attended by people from North Africa, Somalia and Eritrea.
"All Muslims are of course shocked that people praying came under fire," said Onder Gunes, spokesman for the Federation of Islamic Organisations in Switzerland, before the attacker's background became known.