Hollywood actress Zsa Zsa Gabor dies aged 99
Comments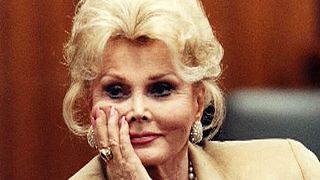 The Hollywood actress Zsa Zsa Gabor has died aged 99.
Know for her beauty, glamour and her husbands – she was married nine times – the former Miss Hungary contestant emigrated to the United States during World War Two.
She made her screen debut in 1952 eventually appearing in more than 30 films.
Although her acting skills were rarely lauded Gabor earned good reviews in notable films such as "Moulin Rouge" in 1952 and "Lili" in 1953.
Zsa Zsa Gabor died Sunday. Married 8 times and with a modest acting career, she was famous for being famous. https://t.co/2AQWlPeS5U

— The New York Times (@nytimes) December 18, 2016
She had a penchant for calling everyone "dah-ling" in her thick Hungarian accent. Along with her two sisters, Eva and Magda, she became a fixture on Hollywood's social circuit in her prime.
Throughout her Hollywood heyday Gabor listed her birthday as February 6 steadfastly refusing to reveal the year.
"I am a marvelous housekeeper. Every time I leave a man, I keep his house."

— Zsa Zsa Gabor (1917—2016) pic.twitter.com/0JD7ZWJFM5

— BuzzFeed News (@BuzzFeedNews) December 18, 2016
Gabor was also the author of the books "How to Catch a Man, How to Keep a Man, How to Get Rid of a Man," "Zsa Zsa Gabor's Complete Guide to Men" and "One Lifetime Is Not Enough."