Toddler, 3, shot dead in Little Rock, Arkansas, road rage attack
Comments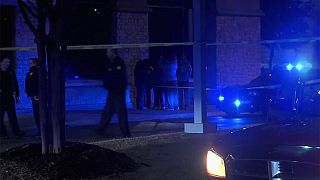 Police in Little Rock, Arkansas, are searching for a man suspected of fatally shooting a three-year-old boy in a road rage incident.
The toddler was in the car with his grandmother when another driver started shooting at the vehicle, seemingly frustrated because she paused for too long at a stop sign.
Tonight's homicide was a road rage incident, the grandma and 3 year old victim are innocent and have no relationship w/ the suspect.

— Little Rock Police (@LRpolice) December 18, 2016
Police are requesting anyone with information on a tall black male in a black Chevrolet Impala to come forward.
We need your help locating an older black Chevrolet Impala being driven by a tall B/M. The incident occurred at Warren & Mablevale Cutoff.

— Little Rock Police (@LRpolice) December 18, 2016
The woman was reportedly driving away when the man opened fire, and didn't initially realise her grandson had been hit. She went on to drive several miles to a JC Penney store before calling for help.
He was pronounced dead at a local hospital.
The fatal road rage attack is the second in less than a month involving a toddler, Little Rock Police Chief Kenton Buckner said.
"This was the second time in less than a month that an infant child has been shot while traveling in a vehicle in our city. As you can probably understand that's very frustrating to our police agents as it should be, to our community."