Spain: Anti-austerity protest attracts thousands
Comments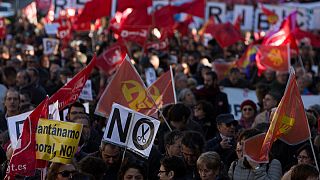 Thousands have marched through Madrid to demand an end to austerity measures in Spain.
The demonstration, organised by the country's two main unions (UGT and CCOO), is the first major protest since the government was named in November, after almost a year of political uncertainty.
Josep Maria Alvarez, the UGT's Secretary-General vowed to reach an accord on austerity.
"These demonstrations will continue if necessary. It only depends on the government's ability not only to discuss, but also to negotiate and make agreements."
Eva Garcia, a student protester, added:
"We are in an unsustainable situation. Many people and students can't live like this anymore and that is why we are here protesting. We have to keep taking to the streets."
Last week, the International Monetary Fund said Spain should step up economic reforms and gradually trim its public deficit.
Prime Minister Mariano Rajoy adopted the current policies during his first term in office, between 2011 and 2015, as Spain emerged from a deep recession.